Thomas
Bacon
Profile:



Bacon's
Bits:
---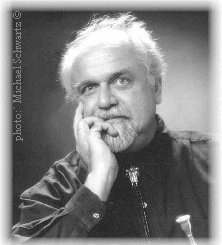 homas Bacon's work in the United States, Europe, South America and Asia has placed him in the highest echelon of hornists worldwide today.
He has held principal horn positions with the Syracuse Symphony, Detroit Symphony, Houston Symphony and the Berlin Radio Symphony Orchestras. He has also performed in "guest" principal positions with the Berlin Philharmonic, Berlin Opera, Pittsburgh Symphony, Milwaukee Symphony, Chicago Symphony, Phoenix Symphony, Fort Worth Symphony, and many other orchestras.
As soloist he has performed in Europe, Africa, Asia, North and South America, and been soloist on international tours with the Amati Ensemble, the Berlin Radio Orchestra, and Mikhail Baryshnikov's White Oak Dance Project. He has performed concertos with over a hundred orchestras across the United States, and been guest artist at major music festivals throughout the world.
Thomas Bacon is a subject in the book "Twentieth Century Brass Soloists" - by Michael Meckna, (Greenwood Press, 1994). The book profiles ninety-nine of the world's most outstanding soloists on all brass instruments who flourished in the Twentieth Century, from trombonist Arthur Pryor (1870-1942) to trumpeter Wynton Marsalis (b. 1961), along with other greats: Glenn Miller, Louis Armstrong, Maurice André, Barry Tuckwell, Dennis Brain, and Philip Farkas. Meckna said this about Thomas Bacon:
"Like Barry Tuckwell, Bacon is a born virtuoso...one looks forward to hearing much more from this outstanding hornist."
Mr. Bacon records and concertizes in recital, chamber and orchestral engagements, with around one hundred performances annually. Recent tours have taken him to Japan, Hong Kong, France, Luxembourg, Spain, Germany, Austria, Switzerland, Italy, Mexico, Canada and across the U.S. He is a founding member and vice president of Summit Brass, America's Premier Large Brass Ensemble. Mr. Bacon also is a member of the The Golden Horn, and Opus 90.
Over sixty new pieces have been written for him by different composers, from dramatic theater pieces and children's pieces, to avant garde chamber works, and pieces for horn ensembles. Reaching out to music lovers of all ages, his audiences are enchanted with drama, humor, virtuosity, musicianship and a stage presence that captivates. Thomas Bacon is in the vanguard of artists who are changing the face of classical music, successfully appealing to a broader audience.
Thomas Bacon has made dozens of recordings on London, RCA, Telarc, Crystal, Centaur, Pro Arte, CBS, Gasparo, Vanguard, A & M, New World, and Summit Records. He is also editor of The Complete Hornist for Southern Music Co., a series of music for horn.
Prof. Bacon has served on the faculties of Arizona State University, Rice University, University of Houston, Syracuse University, and Oakland University; and he has given master classes and clinics at hundreds of universities and colleges around the world.
Thomas Bacon is a Yamaha Performing Artist.
For information on how to book Mr. Bacon, see: Booking Info